Dependable Construction
All our buildings are class leaders. Designed to be
dynabolted
to a level concrete slab or concrete footings, dependability and robustness have always been our focus. We can
however
, adjust our columns for in-ground construction ensuring every customer request is met. Rainbow Garages and Sheds are bolted together with a heavy-duty
laser cut
folded bracket greatly simplifying construction. We use a minimum C150 C-section purlin as the main portal frames with top hat purlin for the wall and roof girts. All screws and bolts, including
dynabolts
, are supplied. All exposed screws and rivets are supplied
colour
matched to the sheeting and flashings. We use as a minimum 0.42 BMT (0.47 TCT) roofing material (normally corrugated unless otherwise stated). This ensures that the roof is trafficable: a person can walk on the roof without fear of damage and/or falling through. We use a minimum 0.42 BMT (0.47 TCT) low rib wall cladding on the walls for all sheds and garages up to 3.0m. Any wall 3.01m and over we will use high rib wall cladding 0.42 BMT (0.47 TCT). However, if requested we can use 0.42 BMT (0.47 TCT) high rib wall cladding on walls with heights below 3.0m.
What's all this shed talk?
BMT stands
for:
Base Metal Thickness. This is the thickness of the metal before any coating process has begun (ie
colour
, rust inhibitors etc) TCT stands for: Total Coating Thickness. This is the thickness of the metal after the coating process has been completed. This thickness can vary depending on many external factors.
Council Regulations & Forms
Prices for Rainbow constructions include all engineers' drawings and certificates required for Council approval including Form 35a. The only drawing not provided is a site plan, which can be done by you or any draftsman. To have Rainbow draw up a site plan simply contact Rainbow for a quote.
Wind Speeds & Region Classifications
All our products are classed Region A which covers all of Tasmania, Victoria, New South Wales and South Australia with a wind velocity: Vp = 41m/
s :
Vu = 50m/s. Terrain category 2&3 as according to the Building Code of Australia.
Inclusive Pricing
Our prices include all gutters, flashings and downpipes (to ground) unless stated otherwise. The price is always for a full Colorbond® finish (roof, walls and trims) unless otherwise stated. Shed kit prices on the standard price list include roller doors, engineers' plans & specs (Form 35a) but no other accessories or extras.
Fantastic Warranties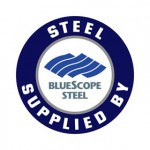 Blue Scope Steel offers a range of warranties (typically 15 years) for materials used in garages and sheds. The latest information on warranties can be found at www.bluescopesteel.com.au
Comprehensive Sizes
Whilst our brochure will give you an idea of what we can build we are not restricted to these sizes and dimensions. We pride ourselves on being able to tailor a building solution to your precise requirements. In fact, we can manufacture any size you can imagine to the nearest millimetre up to a 20.0m wide. If you have any special requirements please call us. We'll happily show you how we make any request possible.